BCCI – SWITCHAsia project, funded by European Union (EU) began its collaboration with Department of Agriculture (DoA), Ministry of Agriculture and Forests (MoAF) since March 2021 to take forward the works on Good Agricultural Practices (GAP) in Bhutan. The main objective of collaboration is to supplement the initiatives of promoting sustainable agri-business and develop market linkages for select agro-commodities by facilitating sustainable supply chain linkages. More importantly, the project has considered GAP as one of the means to promote SCP, since the GAP standard focus on food safety, produce quality, workers' health, safety and welfare, and environmental management. This holistic blend of social, economic and environmental standards aligns well with the principles and approaches of SCP.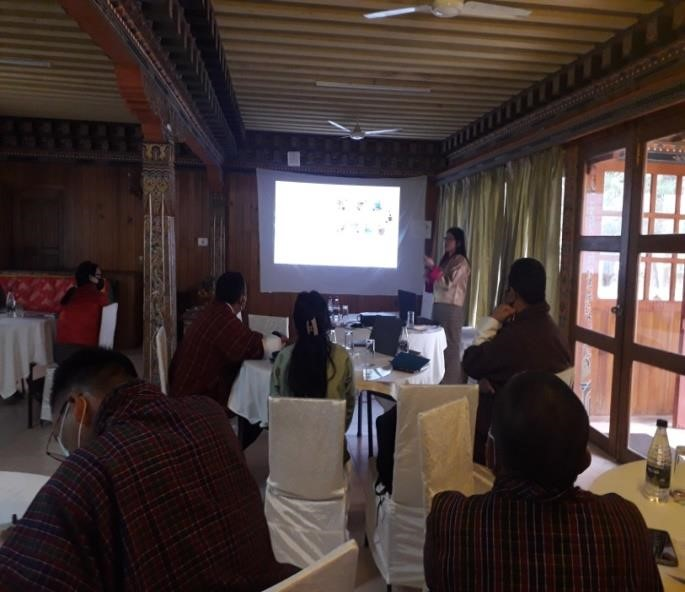 Under this collaboration, the project supported right from creating awareness on BhutanGAP standard to technical capacity building of farmers and field extension officials. The works on BhutanGAP kicked-off with training of farmers from the pilot districts of Thimphu, Dagana, Wangduephodrang and Punakha on the BhutanGAP standard requirements and other aspects of GAP implementation. Through the training on BhutanGAP standard, the farmers and the extension officials were acquainted on the importance of GAP in terms of social, economic         and      environmental sustainability.  The farmers were briefed on how consumers are demanding safer and health food amid increasing food safety issues around the world. Furthermore, the farmers were made to understand on the business prospects of sustainably produced goods. An emphasis on the need to adopt sustainable practices and prepare accordingly for the market was by making the farmers understand how importing countries are increasingly putting non-tariff measures to restrict entry of unsafe food products.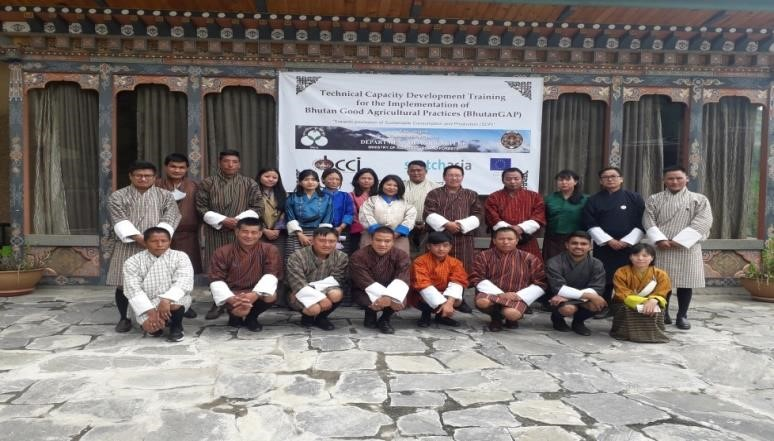 There are a number of requirements to be fulfilled to get BhutanGAP certification, which requires a series of capacity building and consistent handholding. In order to prepare the farmers for the certification, the project supported       in         conducting      technical capacity building trainings. In the first phase of the technical training, the experts from the National Plant Protection Centre (NPPC) oriented the farmers and the extension officials on diseases that are common for the crops that are considered for GAP certification, viz. potato, kiwi, apple and mandarin. The participants were trained on how to identify diseases and pests, precautionary measures and control measures to safeguard loss of crops to pests and diseases. The training also imparted practical skills on plant protection chemical calibration and handling, application, storage and disposal of chemicals. This technical training basically helped preparing farmers to conform to BhutanGAP standard and also learn how to safeguard impact on environment. A total of 13 extension officials and regulatory official from four pilot GAP districts attended the training along with 6 pilot/lead farmers for GAP.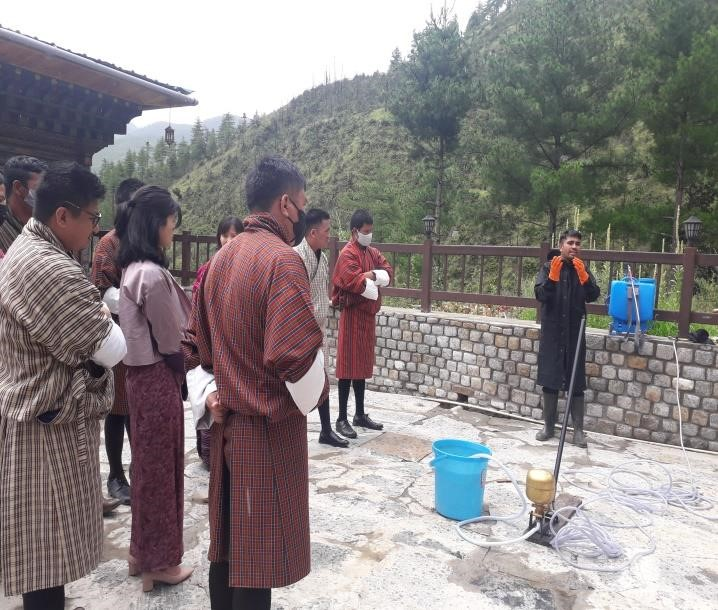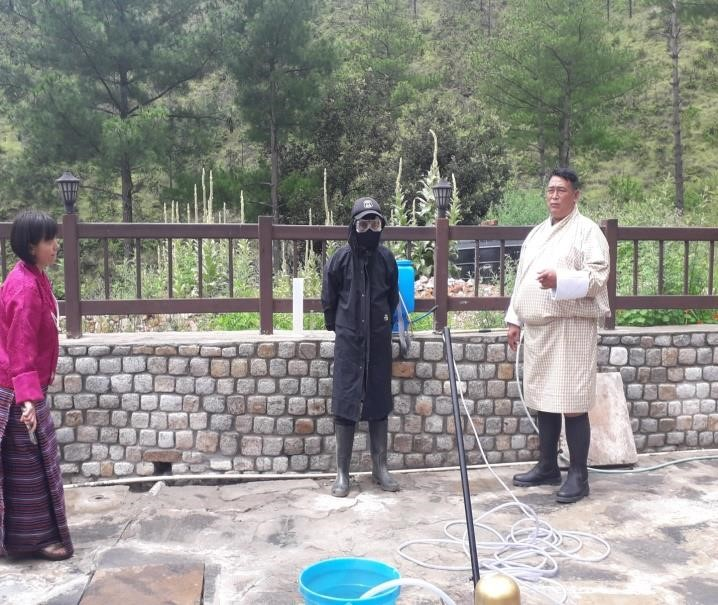 The final phase of technical training was on post-harvest/post-production management to meet the produce quality requirement of BhutanGAP standard. The post-harvest management training was provided to the famers working under GAP for potato and apple to prepare for launching of GAP certified products in the market.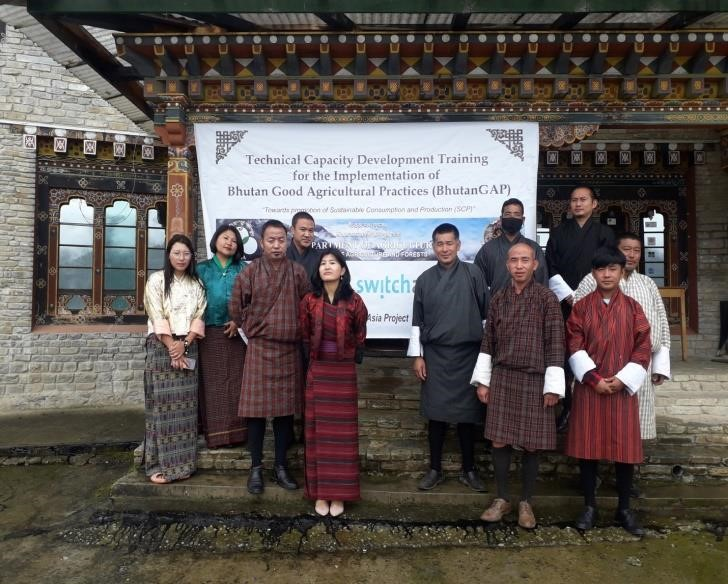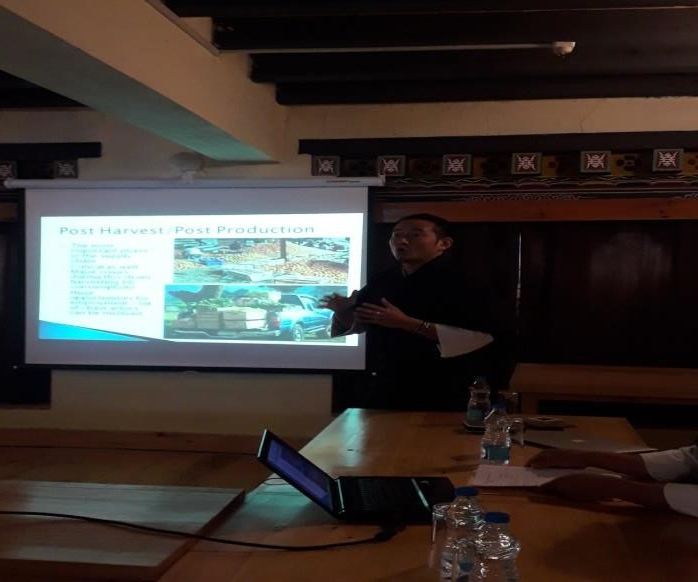 With the consistent handholding of farmers by the field extension officials and GAP certifiers of Bhutan Food and Agriculture Regulatory Authority (BAFRA), three crops viz. potato, kiwi and mandarin in select pilot areas were certified under BhutanGAP in 2021. Currently, there are 6 GAP certified lead farmers – 1 for kiwi, 1 for mandarin and 4 for potato, respectively. In Dagapela, Dagana, mandrin orchard area of 2.5 acres has been certified under BhutanGAP and produced approximately 11.5 MT of mandarin in 2021. Similarly, kiwi orchard area of 2 acres under GAP in Punakha produced approximately 200 kg of kiwifruit. Two farmers in Ganey Gewog in Thimphu with combined area of 0.89 acres under GAP produced approximately 4.5 MT of potatoes. In addition, one potato farmer each in Gangtey and Phobjikha Gewog in Wangduephodrang district got certified under GAP. The combined area of 2.93 acres in two Gewogs produced 13.10 MT of potatoes in 2021.
Following the certification, three BhutanGAP certified pilot crops were successfully launched in Thimphu in partnership with Bhutan Smart Shop (BSS). BSS is a popular outlet for local agricultural commodities and it sources agricultural commodities from cooperatives, farmer groups and individual farmers across the country.
A short awareness clip on GAP was also developed and shared through various social media platform for reaching out to larger audiences and creating awareness on GAP.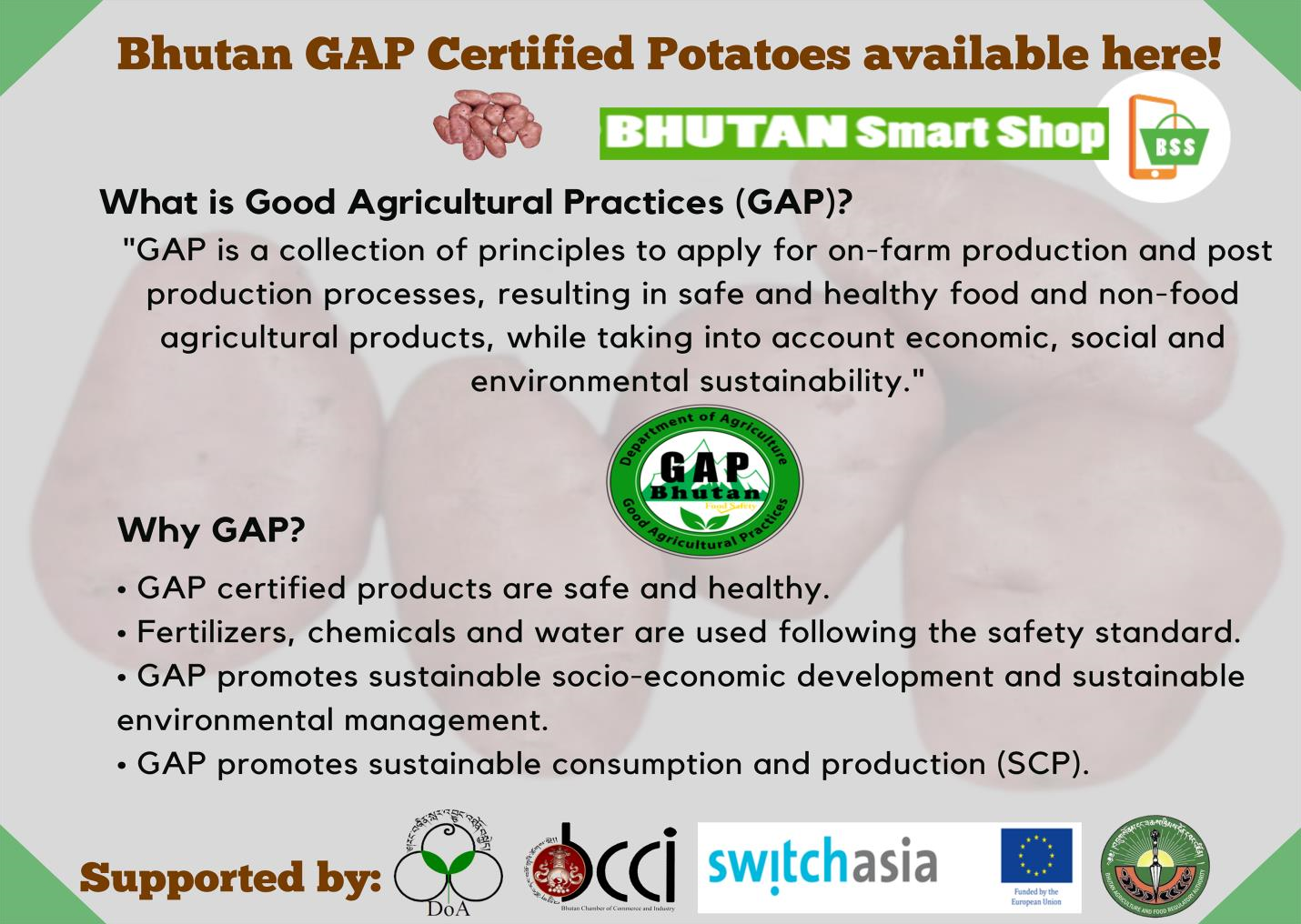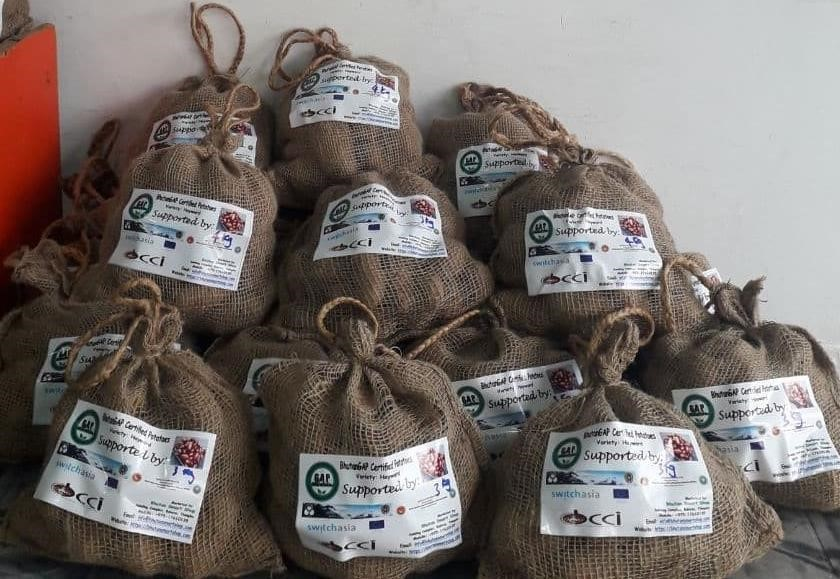 As more farmers have shown interest to come under the GAP and with the potential benefits of GAP in promoting SCP, the project will continue its collaborative works on GAP in 2022. In order to create better visibility and impact of the interventions, the focus will be on up-scaling the area and production of three GAP certified crops. Such focus efforts will help to generate baseline data and assess the outcome of the interventions.
In Bhutan, the DoA is the Scheme owner and the BAFRA is the third-party certification body in line with BhutanGAP standard. Through GAP, the DoA aims to promote sustainable agriculture that is ecologically safe, obtain safe products of higher quality and also to contribute towards achieving food security by generating income through access to domestic and international markets. GAP also supports DoA's long-term goal of commodity focused commercialization drive and pursuit of enterprise development in agriculture through unlocking barriers in international trade besides providing safer food in local market.
GAP activities in Bhutan are guided by Good Agricultural Practices Standard: Fruits and vegetables (BTS 30:2017) developed and endorsed by the Bhutan Standards Bureau (BSB).
SWITCH Asia Project Unit
Bhutan Chamber of Commerce & Industry (BCCI)
Thimphu: Bhutan