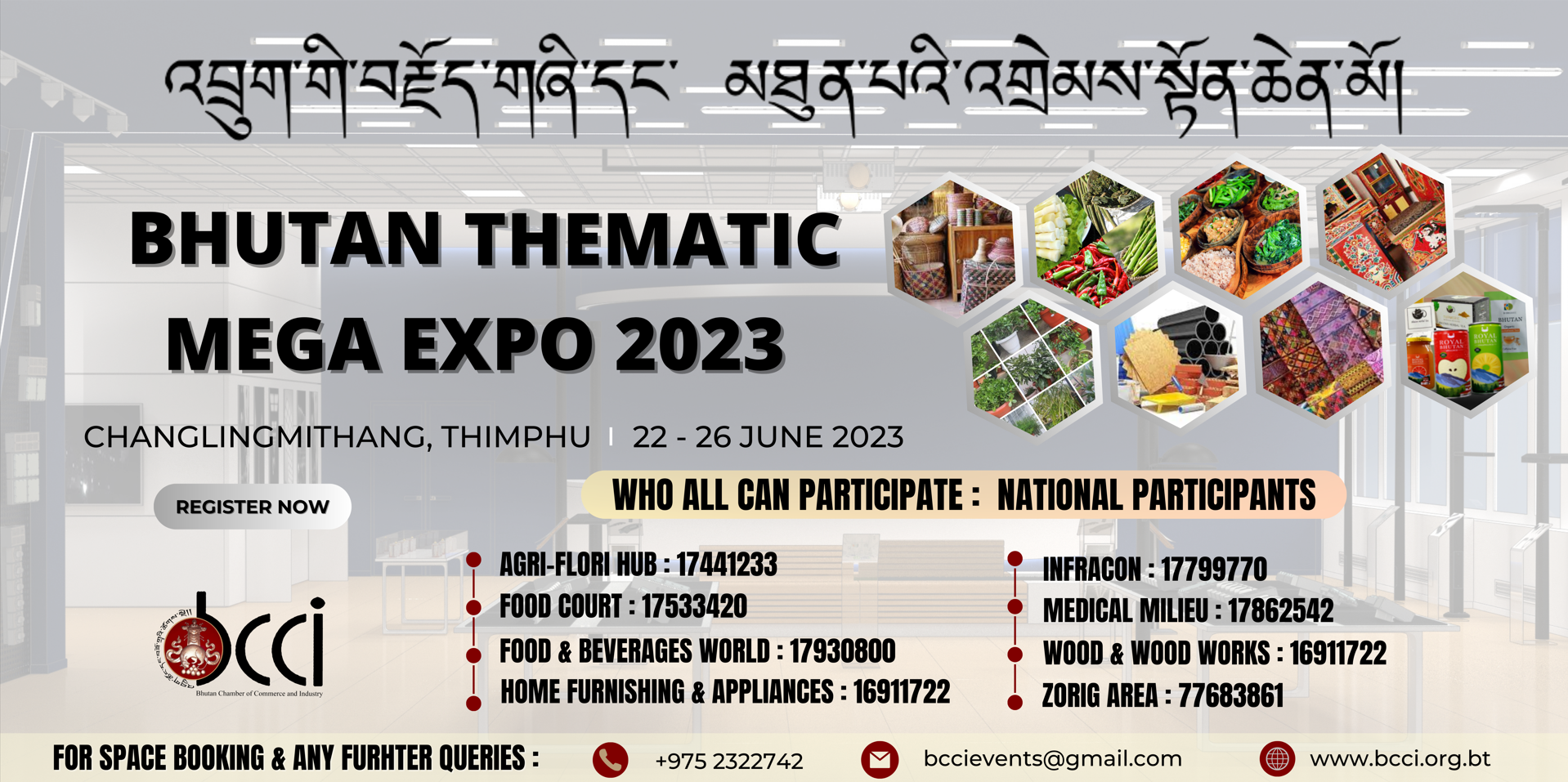 The Bhutan Chamber of Commerce and Industry (BCCI) is organizing the "Bhutan Thematic Mega Expo 2023" tentatively scheduled from 22-26 June 2023 at Changlimithang Parking space, Thimphu under the support of Transitional Trade Support Facility Program (TSF). This expo shall showcase wide ranges of products covering various thematic sectors as below:
Agri-Flori Hub
Food and Beverages world
Food Court
Home Furnishing/Appliances
InfraCon
Medical Milieu
Wood and wood works
Zorig Area
This Exhibition shall not only promote and launch products and services under different pavilions but also help build internal networking and supply chain. Product promotion and launching opportunities shall be provided to the participants.
We invite participation of the above listed sectors and for further inquiries and registration please contact the relevant official (s) with the duly filled in registration form along with the following documents on or before 24th May, 2023.
Letter of Expression of Interest;
A copy of the valid business license;
A copy of CID;
A copy of the BCCI Membership fee receipts (2022 & 2023 recent);
Attach product catalogue (if any) and
BCCI Membership Card number (if any)
Sl #
Sector/Pavilion
Official
Contact/ WhatsApp
1
Agri-Flori Hub (includes local Agri-Flori products & imported equipment/framing tools, etc)
Sonam Phuntsho

 

17441233

 

2
Food & Beverages World & Food Court (includes local processed food and cuisines, etc)
Sonam Wangmo

17930800

3
InfraCon (include construction materials/hardware item, etc)
Deki Chhoden
17799770
4
Medical Milieu (include wellness, local herbs & imported medical equipment/devices, etc)
Choki Gyeltshen
17862542
5
Wood & Woodworks (include local furniture/home décor) and Home Furnishing/Appliance, tools, etc. (imported)
Choning Dorji
16911722
6
Zorig Area (includes local Arts & crafts and all CSI products)
Nim Pem

77683861